Last Updated on October 29, 2020
Dedicated Proxies have many uses ranging from Anonymous Browsing, to Overcoming Censorship, Game Botting, as well as Bypassing Region Locks for buying software/games at cheaper prices from other geo-regions, and even Circumventing IP Bans for buying multiple items from stores that limit quantities for things like sneakers and Funko Pops. There are many other reasons to use cheap dedicated proxies, but let's take a closer look at what a Dedicated Proxy actually is first.
The 26 Cheapest Dedicated Proxy providers of 2020
Before we look at the comparison chart of 2020's cheapest dedicated proxies, let's first take a broader look at proxies as a whole. There's a chance you may learn something new about proxies and you may even discover that dedicated proxies aren't actually what you need. (Or you can just skip to the table.)
What, Exactly, is a Proxy?
A Proxy is another computer somewhere else that your internet traffic is routed through as an intermediary, like a middle-man. When using a proxy, any web servers you communicate with will actually be communicating with your middle-man proxy and not directly with your computer. This is how a proxy effectively changes your IP address to the outside world as the only IP address the world sees is the IP of your proxy server. To learn more about how a proxy works visit this page.
Private Proxies vs. Open Proxies
There are two main categories of proxies – Public Proxies, and Private Proxies. Public proxies are not locked with a password or allowed list of IP address that can use them so they are effectively open to the world to use for free – for this reason they are also called "Open Proxies". Private proxies, on the other hand, are username and password protected or can only be used by specific IP addresses.
Private Proxy PROs
Fast – Private Proxies run on better hardware/connections than Open Proxies and are usually faster.
Stable – Private Proxies are abused far less than Open Proxies and generally work far longer.
Safe – Private Proxies are by far safer than Open Proxies that might be operated by shady people.
Consistent – Private Proxies are usually have the same performance no matter when they are used.
Private Proxy CONs
Expensive – Private Proxies are generally sold as a service and aren't free like publicly Open Proxies
Less Choices – Private Proxies can be hard to find in certain countries where Open Proxies can be found.
To learn more about Public and Private proxies go to this page.
Dedicated Proxies vs. Shared Proxies
Within the category of Private Proxies there also two sub-categories of proxies – Shared Proxies and Dedicated Proxies. Shared Proxies are private proxies that are used by one or more people at a time – and often they are referred to as "Semi-Dedicated Proxies". Dedicated Proxies, however, are only used by one person at a time and are usually the best type of proxy.
Dedicated Proxy PROs
Exclusivity
Speed
Longevity
Private
To learn more about Shared and Dedicated proxies go to this page.
A Quick Look at 26 of the Cheapest Dedicated Proxies of 2020!
Here is a table of all the Cheapest Dedicated Proxy Providers listed on GetFastProxy – sorted from Lowest Price to Highest Price. At first glance, this seems like the perfect way to find the cheapest dedicated proxies, however, it's not so simple. Dedicated proxy providers offer their proxies in different quantities from each other, and some also charge less per proxy when a larger quantity of proxies is purchased. Therefore, to find the best proxies for your need it's important to look at how much a proxy provider charges for your desired quantity of dedicated proxies to find the best deal.
Below the table you will find detailed reviews of each dedicated proxy provider along with a pricing table of all their proxy packages to help you pick the cheapest dedicated proxies possible!
Name
Starting Prices
Buy
IPLease.io Dedicated Proxies

$

2.10 –

$

1,350.00
HighProxies Dedicated Proxies

$

2.30 –

$

1,400.00
Proxy-N-VPN Dedicated Proxies

$

2.35 –

$

1,390.00
MyPrivateProxy Dedicated Proxies

$

2.49 –

$

2,500.00
CoolProxies Dedicated Proxies

$

3.00 –

$

300.00
ProxyFish Dedicated Proxies

$

3.50 –

$

275.00
BestProxyAndVPN Dedicated Proxies

$

4.99 –

$

171.99
LimeProxies Dedicated Proxies

$

4.99 –

$

3,999.00
ProxyBlaze Dedicated Proxies

$

5.00 –

$

800.00
BlazingProxies Dedicated Proxies

$

6.00 –

$

980.00
ActProxy Dedicated Proxies

$

6.50 –

$

760.00
YourPrivateProxy Dedicated Proxies

$

6.97 –

$

399.97
PrivateProxy.me Dedicated Proxies

$

9.00 –

$

1,500.00
BuyProxies.org Dedicated Proxies

$

10.00 –

$

150.00
Mexela Dedicated Proxies

$

10.00 –

$

650.00
StormProxies Dedicated Proxies

$

10.00 –

$

400.00
Microleaves Dedicated Proxies

$

12.50 –

$

1,250.00
Proxy.Cheap Dedicated Proxies

$

12.50 –

$

1,250.00
SSLPrivateProxy Dedicated Proxies

$

15.00 –

$

1,750.00
Proxy Key Dedicated Proxies

$

16.80 –

$

1,049.00
EZProxies Dedicated Proxies

$

20.00 –

$

600.00
Proxy-Hub Dedicated Proxies

$

20.00 –

$

185.00
SquidProxies Dedicated Proxies

$

24.00 –

$

1,500.00
WooProxy Dedicated Proxies

$

29.00 –

$

180.00
RotatingProxies Dedicated Residential Proxies

$

43.00 –

$

9,395.00
A Thorough Review of 15 of 2020's Cheapest Dedicated Proxies
Here are the dedicated proxy providers on GetFastProxy laid out in detail – sorted by the average of their prices from Low to High. By looking below it's easy to see that the above table is not sufficient enough to find the Cheapest Dedicated Proxies of 2020!
Click the gray pricing table boxes to expand a proxy providers' dedicated proxy pricing.
---
Lime Proxies has been providing cheap dedicated proxies steadily since 2010.
Free Proxy Refresh/Randomizes on request.
Worldwide Phone Support – 24/7 Guarantee
Highly/Elite Anonymous – All headers disabled.
300+ Subnets – Proxies from multi mixed subnets.
Both IP and User/Pass authentication.
Up to 25 IPs for proxy authenticated.
1 Gbps speed connections.
---
ActProxy has been around since 2007 but only in it's current form since 2015.
Multiple Cities and Subnets
1Gbps Connection on all servers
Non Sequential IP's
API Accessible Proxy Lists
99% Uptime Guaranteed
Up to 100 Threads
User/Pass and IP Authentication
Highly Anonymous
---
ProxyBlaze has been a cheap Dedicated Proxy provider since 2010.
100% Exclusive Private proxies
100% High Anonymous Level1
Http and Socks5 Protocol
High ports ranging above 10k To 65K
All proxies hosted on 100Mbps connections
Non-sequential IP USA proxies
Proxies are alive 24/7 – 97% Uptime
Static IP that won't ever change
---
Blazing Proxies has been online since 2015 providing cheap dedicated proxies.
1 Gbps Dedicated Network Lines
Instant Proxy delivery within 2 Minutes
Instantly Replace/Refresh bad proxies
Proxies in Seven countries around the world
Hundreds of Subnets Varying from A/B/C Classes
Support For HTTP, HTTPS, and SOCKS Proxies
---
USAProxies.net has been providing cheap dedicated proxies since 2011.
USA based proxy servers.
Completely Anonymous.
Unlimited Bandwidth usage
1Gbps Internet connectivity
Http and Https protocols supported.
IP Address or Username/Password authentication.
Scrapebox, Pinterest, and Instagram supported.
---
ezProxies has provided cheap dedicated proxies to customers since 2010.
Highly Anonymous
HTTP and HTTPS proxies
USA and UK located proxy servers
24/7 Phone, Chat, and Ticket Support
Socks5 Proxies available by request
---
StormProxies has been online and serving cheap dedicated proxies since 2015.
Automatic and Instantly delivered proxies
High Speed 1Gbps optimized network
Unlimited Bandwidth, no hidden fees
2 Hour Money-Back Guarantee
Virgin IP Addresses
24/7 Email Support
Highly Anonymous
---
Mexela has been up and running since 2014 providing cheap dedicated proxies.
API to automatically download proxy list
300k Proxies in 7+ countries around the world
Unlimited Bandwidth on all proxy plans
Option to have new proxies each month
Http/Https Proxy protocols
Fast in-house support
Highly Anonymous
---
IPLease.io is a fairly new provider of cheap dedicated proxies having only been around since 2017.
Unlimited Bandwidth and 100 threads per proxy
Fast Loading 1Gbps performance connections
Highly Anonymous – all headers disabled
Proxies from Europe and United States
Fully automated proxy control panel
Free Monthly proxy refresh/randomize
Proxies delivered in an hour or less
24/7 Ticket/Chat support
---
BuyProxies.org has been selling cheap dedicated proxies to customers since 2011.
Unlimited Bandwidth for Unlimited Dreams!
Hundred of Locations around the world
API for retrieving proxies via script
24/7 Maniac support, even on holidays
IP and User/Pass proxy authentication
Option to have New Proxies monthly
---
Proxy-Hub has been providing the internet with dedicated proxies since 2012.
Unlimited Bandwidth on all proxies
DIY User/Pass and IP authorization
Request New Proxies each month
API to Retrieve Active Proxies
No SEO Software Restrictions
Non-Sequential IP Range
Quality Support
---
Squid Proxies started selling dedicated proxies way back in 2010.
Unlimited Bandwidth – No Usage Restrictions
HTTP/HTTPS proxies for browsers and bots
Multiple IP Subnets from various cities
Non-Sequential IPs from various subnets
24/7 Support – Fast Response Time
Highly Anonymous – Hide your IP
Request Fresh IPs Monthly
---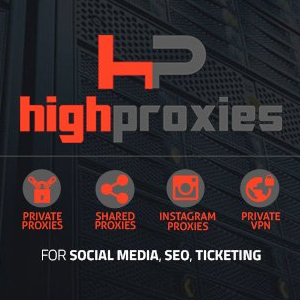 High Proxies has been up in it's current form since 2016 selling dedicated proxies.
1000Mbps high performance connections
Hosted on 16GB Xeon Servers
Multiple cities/Locations
Randomize IPs Monthly
Unlimited Bandwidth
Multiple IP Subnets
Highly Anonymous
---
PrivateProxy.me is relatively new in the dedicated proxy game, their website just around since 2017.
Elite Highly Anonymous Proxies
Owned Servers – Not Reselling
Http/Https Protocol Proxies
Proxies in US and Europe
Unlimited Bandwidth
Instant Activation
---
Proxy-n-VPN have been providing proxy users with dedicated proxies since 2013.
1000Mbps Fast Servers
Unlimited Bandwidth
Non Sequential IPs
99% Uptime Guaranteed
High Anonymous
24/7/365 Live support
3 Day Money-Back Guarantee
---
Full Dedicated Proxy Plans of 2020 Comparison Chart
Here's the full Dedicated Proxies Comparison Table. Be patient though, there's a lot of dedicated proxy plans that it must sort through!